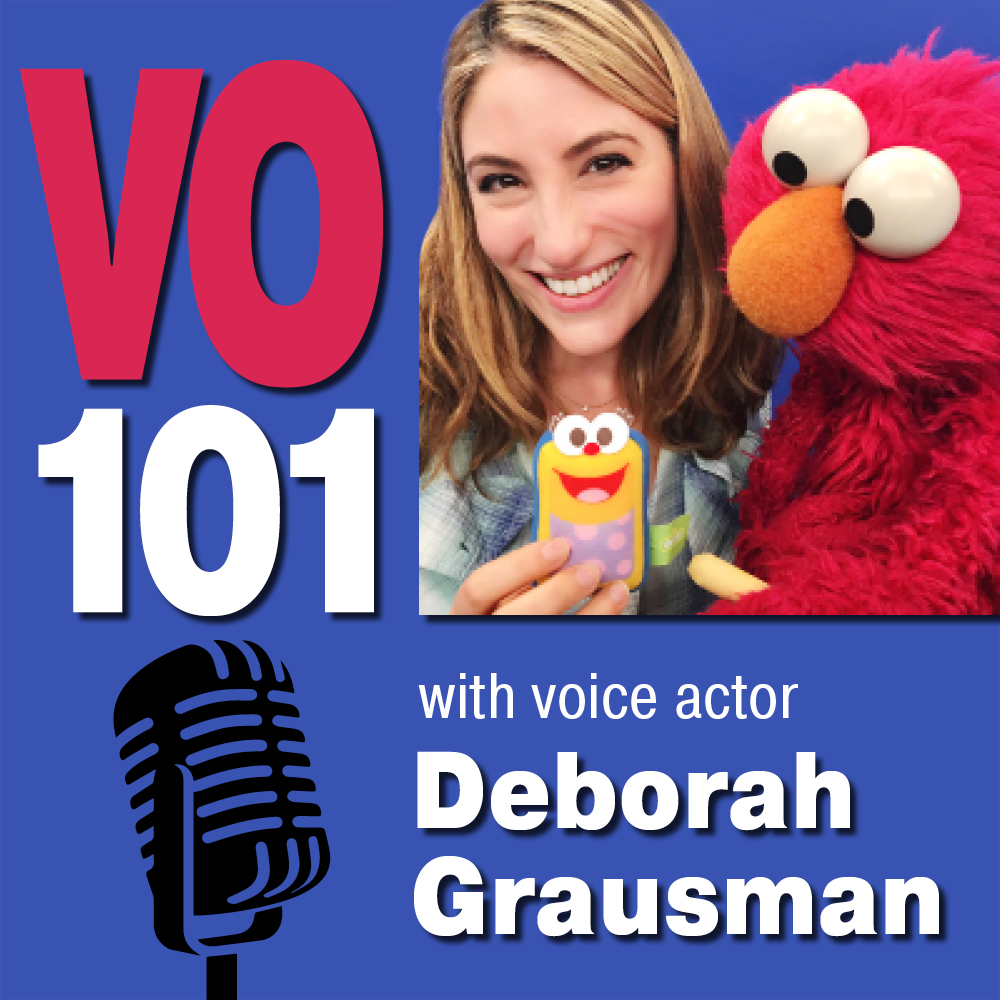 Curious about the voiceover world?
Join voice actor, Deborah Grausman, for a fun exploration of this exciting niche market.
Deborah currently voices Elmo's friend, Smartie, on Sesame Street, and can be heard on numerous commercials, audiobooks, and promos.
Feel good about honing your skills

…
TUESDAYS via ZOOM
6/30  •  7/7  •  7/14  •  7/21
2:00 – 4:30pm EST
VO 101 – Intro
to Commercials
1 class || $75
Get your feet wet with this dynamic commercial class. Learn VO basics and enjoy a Q&A about the biz.
VO 101 – Industry Package
4 classes || 2 industry guests || $200
Commercials • Promos • Animation
Special Guests
Casting Director — Andy Roth
Recording Engineer — Steve Bartlett
This class is open to working VO artists (18+) who want to brush up on their skills as well as beginners who want to start working in this competitive industry.
 
Week 1 – VO Basics + Intro to Commercials + Q&A
Week 2 – Delve deeper into commercials, plus, Recording Engineer Steve Bartlett joins to answer questions about your home studio set-up.
Week 3 – Learn how to create a character voice as we explore the world of animation.
Week 4 – Intro to Promos. Learn the basics of this specialized skill set, plus, industry guest, Casting Director Andy Roth, joins us! Showcase your skills to one of the busiest casting directors in town and learn about the VO industry from the casting perspective. 
Deb offers the perfect balance of positive energy and constructive criticism. She will challenge you to do your best and will make you feel amazing when you get it right. Her enthusiasm for the work, and for teaching others, is a joy to behold.
Deborah is a truly gifted teacher who is able to share her knowledge and inspire her students. Children, teens, and adults, alike, gravitate towards her energy. I would encourage anyone, who gets the opportunity, to work with her; she is in a class by herself.
Deborah's specificity and attention to detail really enabled me to learn and improve, not just from personal feedback, but from watching my classmates' work as well. I feel very lucky to have studied with her and to have learned from her vast experience in the industry; I came away from the workshop feeling better equipped and excited for future voice work.
Deb is not only extremely talented and exceptionally skilled in all areas of VO, she's also a kind, warm, generous, and passionate human being. I'm lucky to call her a coach, a mentor, and a friend. Absorb all you can from this "Smartie;" her wisdom and insights are not to be missed!
Reserve your spot or ask a question: